Disney Parks uses RFID-enabled bracelets to revolutionize its theme parks
"Any sufficiently advanced technology is indistinguishable from magic"
– Tom Staggs, former COO of the Walt Disney Company and champion of the magic band project
What is a "magic band?"
In 2013, the Company debuted the "Magic Band," a bold, billion-dollar initiative to digitize its park assets. The Magic Band is a plastic bracelet inspired by the Nike's SportBand, an early entrant in the consumer wearables market.1 The plastic band is embedded with a Radio Frequency Identification chip (RF), a transmitter, an antenna, and a battery that will last roughly two years.1, 2 The transmitter sends and receives RF signals through the antenna. The device can be read when guests actively scan it at short-range touch points or as they passively walk through the park using long-range readers.1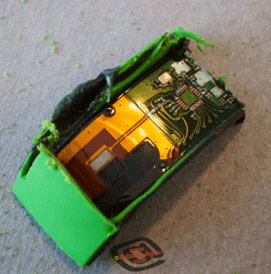 A Deconstructed Magic Band [3]
How the band revolutionized the Parks' operating model
From a management perspective, Walt Disney World is an operational wonder. The Park's 30,000 employees run over 140 attractions, 300 F&B outlets, 36 hotels, and a monorail with a daily ridership of 150,000.1 From a visitor's perspective, it can be a logistical nightmare, with 8,000-10,000 guests flowing through the main entrance every hour.5 The magic band addresses several "pain points" in the park experience.
Reducing bottlenecks at entry
Before visitors even step foot into the park, many will encounter their first bottleneck – the gates. Previously, guests lined up in winding queues at turnstiles. At each station, an employee accepted a ticket, scanned it, and allowed the visitor to move through entry. Parents and those in large groups often delayed the line, shuffling for tickets. Handicap guests and families with strollers would wait as a second attendant would open the closest adjacent gate. The process could take anywhere from seconds to minutes per guest. With the magic band, park entry is now seamless. The gates and turnstiles have been removed, giving way to an open air courtyard peppered with band readers, enabling seamless entry.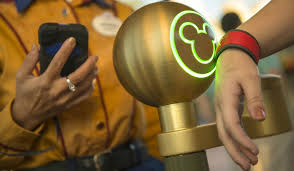 Guests Swipe Band in front of a short range sensor to enter the park [4]
Reducing bottlenecks in the park
Long-range readers of the bands can detect when certain area of the park is becoming too crowded.4 This information can be used to trigger a parade or other distraction to alter guest flows.4
Reduced variability by introducing ride "pre-booking"
Variability in ride queues is one of the biggest operational challenges Disney faces. The length of queues not only depends on the general popularity of a ride, but also on the season, time of day, the weather, and maintenance issues. Some of the most popular attractions can have waits of over 180 minutes. With the introduction of the magic band, Disney also rolled out a website where guests could reserve up to three rides per day in advance of their trip. Once at the park, guests simply arrive at the ride during their scheduled time and swipe their band to confirm the reservation. Once confirmed, they are directed by an employee to move to the front of the line. For guests, the value proposition is clear, as they are ensured immediate access to their highest priority attractions. For Disney, the company gains a valuable way to spread demand by controlling the times available to book for each ride.
Guests can pre-book rides, dining & entertainment and validate their reservation in-park with the magic band [4]
How the band revolutionized the Parks' business model
Disney & Big Data
When viewed as a data source, the magic band has nearly limitless potential to enhance the current business model. Traditionally, the company has always had data on its customers, but it was limited to what customers provided (emails, online purchase behavior, trip booking details). With multiple guests in a group paying on different cards, it is nearly impossible to track spending by party. With the magic band, Disney now becomes a massive aggregator of individually identifiable consumer behavior data. For entering the park, validating ride reservations, entering a hotel room, or paying for food & merchandise, guests actively swipe their magic band in front of a short-range reader. This is one collection point of critical data, like merchandise preferences and spend.  The long range readers installed throughout the park can track guest as they move among attractions and across the resort.  Whereas guests previously moved anonymously within a park, now every step, purchase, and ride can be linked back to their identity. The ability for the company to monetize this information is clear – by better knowing its consumers, Disney can better run its business and better market its product.
Of course, with any data collection program of this scope, privacy concerns rise.6 The long-term success of the magic bands and other digitization efforts will hinge on the company's success at demonstrating a clear value proposition to customers and ensuring them that the data is secure.
[775 words]
[1] Wired, "Disney's $1B Bet on a Magical Wristband." https://www.wired.com/2015/03/disney-magicband/
[2] Walt Disney Company https://disneyworld.disney.go.com/faq/my-disney-experience/frequency-technology/
[3] https://atdisneyagain.com/2014/01/27/making-the-band-magicband-teardown-and-more/
[4] Walt Disney Company https://disneyworld.disney.go.com/plan/
[5] Fast Company, "The Messy Business of Reinventing Happiness." https://www.fastcompany.com/3044283/the-messy-business-of-reinventing-happiness
[6] CSO Online, "The Magic of Disney Magic Bands." http://www.csoonline.com/article/2867326/access-control/the-magic-of-disney-magicbands.html